Consistency of quality since 1990 has contributed to the expertise and experience needed for American Gear, Inc. to produce fine and medium pitch gears. The foremost corporations throughout America look to American Gear, Inc. to meet their most exacting needs, closest tolerances as well as their requirements for prompt delivery, competitive prices and excellent service.
History and Mission Statement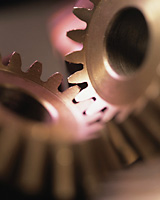 Larry Brylski founded American Gear, Inc. in 1990. Along with his wife Ruth, their mission was to manufacture quality products and deliver on time. In 2007, Greg and Pam Scott decided to carry on the family tradition. Through continuous improvement and commitment, we will strive to exceed our customer's expectations. For more information about our gear manufacturing capabilities, please give us a call at 815-537-5111 or e-mail us using our online Request for Information or Quote form.