American Gear offers a full range of services to ensure that all products are manufactured to specification. Our in-house manufacturing facility offers full range of machining services including CNC Milling and Turning, Gear Hobbing and Shaping, Screw Machining and additional secondary operations. In addition, American Gear can provide heat treating and finishing services so all products are finished complete and ready for the market.
Providing the usual while offering the unusual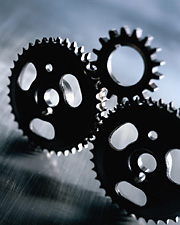 American Gear takes pride in offering a full range of products from a standard worm or helical gears to gears designed for custom or unique applications.
Our Product Categories include:
Spur Gears
Helical Gears (Hobbed – up to 45 degrees Helix)
Worm Gears (Throated, Straight Face or Multiple)
Sprockets
Straight Bevel Gears (Gleason Coniflex)
Miter Gears (Gleason Coniflex)
Ratchets
Timing Pulleys
Prototypes
Assembly
Manufacturing Materials
American Gear can manufacture gears in any and all types of machinable materials including:
Plain Carbon – Alloy and Stainless Steel – Brass or Bronze – Aluminum – Phenolic – Nylon – Delrin
Quality Control
American Gears meets the specifications of many different industries for a countless number of products. We manufacture gears to meet even the most demanding military specifications. By maintaining closely supervised quality control and by employing the latest equipment, American Gear produces fine and medium pitch gears for a wide range of businesses.
Gear Manufacturing Capabilities for Every Industry and Application
Our experience guarantees the quality you depend on! With gear manufacturing experience ranging from consumer goods like automobiles, thermostats and portable electric tools to a variety of industrial applications like bulldozers, oil drilling equipment, and conveyors, American Gear can provide engineering and manufacturing assistance required. From prototypes to full-scale manufacturing, American Gear has the capability to manufacture gears up to 6 inches in diameter, with diametric pitches ranging from 12 to 200. Metric gear sizes from .2 to 3 module.
Prototypes and Full Production Manufacturing
We are fully prepared to provide prototypes for you from the part developed from bar stock to the finished product. Then we will mass-produce the finest precision gears up to 10,000 parts per month. Individual attention is given to specific orders and fast turn around. Our prototype service provides parts to meet very close tolerances for further development.
Assembly Capabilities
American Gear will produce assemblies to meet your every need… gears and allied products and shafts into assemblies from the smallest to the largest quantity, regardless of the number of the parts in each assembly. Assemblies can consist of any one or more of our standard or custom gears. We invite your inquiry. For further gear manufacturing information, please give us a call at 815-537-5111, or Request Information or Quotes using our online form.
Markets and Industries Served
Office Equipment
Computers
Copiers
Printers
Fax Machines
Commercial & Municipal
DC Motors
Washers/Dryers
Emergency Exit Doors for Buses
Bicycles and Motorcycles
Commercial Radios
Can Openers
Refrigerators
Timing Devices
Fire Alarm Equipment
Vending Equipment
Meat Slicers
Electric Door Openers
Mobile Home Accessories
Watches
Microwave Ovens
Gas Pumps
Vacuum Sweepers
Power Tools
Stop Lights
Closed Circuit TV Equipment
Medical
Hospital Beds
Hospital X-Ray Equipment
MRI Machines
Chiropractic Tables
Aviation & Nautical
Flight Instrumentation
Ship-To-Shore Radio
Helicopter Instrumentation
Small Plane Radio
Flight & Navigation Instruments
Air Impact Tools
Surf indicators
Industrial
Military
Government Tools
Gun-Sights
Army/Navy Weapons
Navy Navigation & Radio Systems
Space Ships
Rockets
Bomb Fuses
Torpedo Fuses
Guide Systems
Film
Movie Film Developers
Cameras – Industrial & Consumer
Event Lighting
Remote Cameras
Hobbyist
Archery Equipment
Fishing reels
R/C Cars